TRUST SecurePIM
The most secure and easy to use secret weapon for mobile work.
Our mission: Make mobile work secure
Mobile devices are becoming more important for daily work in enterprises as well as the public sector. The container app SecurePIM for iOS and Android unites all crucial business functionality in one single app.
Strict separation
of business and personal data
Super-strong security technology
protects your company data
Intuitive user interfaces
Business, officiary, or personal device
Easy implementation and user management
no Mobile Device Management needed
Seamless integration with existing infrastructures
e.g. Office Exchange/365, MDM, IBM Lotus
Close cooperation with Germany's Federal Office for Information Security (BSI)
SecurePIM Government SDS is approved for classified information (for official use only, "VS-NfD")
Mobile security "Made in Germany"
More information in Product Flyer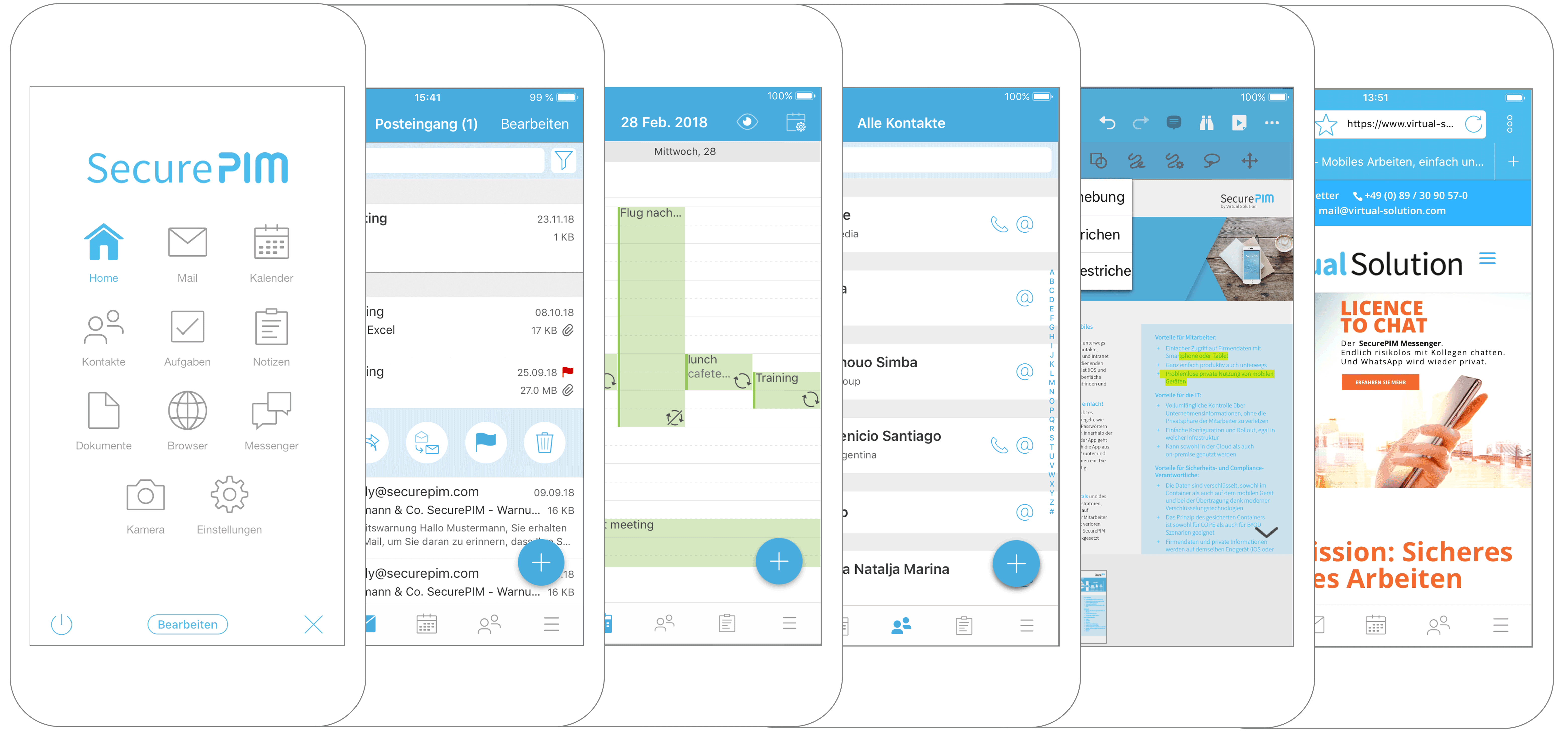 App Functionality
Mail
Messenger
Contacts
Calendar
Notes
Tasks
Documents
Browser
Camera
Voice
SecurePIM Success Stories

"As validated during our trial, SecurePIM successfully closes the administrative gaps many companies encounter with mobile devices. The solution is intuitive for both users and administrators, supports all required functions, and is free of excessive complexity and overload. "

COMPUTERWOCHE
Read article

"Fraunhofer IOSB uses SecurePIM to enable our temp workers and students to work securely on their personal mobile devices (BYOD).
The highest standards of protection for our employees' personal and research data is also ensured. All email traffic is encrypted and protected with certificates and smartcards. Two-factor authentications and digital signatures provide top security on mobile devices for all browser-based business processes."

Dipl. Inform. Birger Krägelin, Informationssicherheitsbeauftragter Fraunhofer Corporate IT Services - Fraunhofer IOSB, Karlsruhe

"From the very beginning, the collaboration between Virtual Solution and Allianz was based on complete trust. SecurePIM provides greater flexibility and functionality over comparable products, and can even integrate calendars. Moreover, SecurePIM is continually upgraded to feature new enhancements."

Robert Spaltenstein,
Leiter Development General Application,
Allianz Technology AG
View Case Study

"SecurePIM Gateway is what really convinced me. All access and communications use this channel, including the mail server. As a result, administrative and support duties have become much easier."

Stephan Grosser, Leiter der IT,
Administrative District of Weilheim-Schongau
View Case Study

For many years, Steiff – the inventor of the teddy bear – deployed a container solution that did not cover all demands sufficiently. It was not until Steiff switched to SecurePIM that the company was able to achieve its goal of encrypting and reliably synchronizing data on private and company-owned smartphones.
During the extensive pilot phase, feedback was unanimously positive. The app was found to be 'stable and reliable', and 'nice and easy to use'.
View Case Study
Click through the interactive demo to see the SecurePIM app's functionality
For the best experience with our demo, please use the Chrome or Firefox browser. Ideally test on your desktop.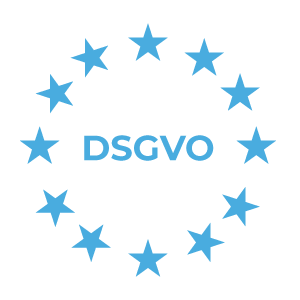 GDPR-compliance out-of-the-box
State-of-the-art encryption standards protect your data while ensuring strict adherence to GDPR. Guaranteed protection from penalties and fines.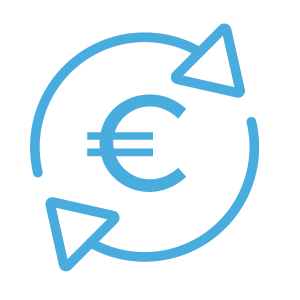 Our money-back promise
If you are issued a GDPR-related fine, you will get your money back!
The money back promise is subject to conditions and restrictions. Find more information here.
TISAX Certification
SecurePIM can support you in fulfilling the requirements for a TISAX certification, regarding mobile devices.
SecurePIM Enterprise
SecurePIM secures sensitive data on company smartphones or on employee's personal phones in a simple and reliable fashion, while protecting employee privacy.
As a simple alternative to Mobile Device Management, SecurePIM is a lean solution for mobile work in small and medium-sized businesses. Access rights and configurations are managed through the SecurePIM gateway in an uncomplicated and simple manner. As a result, SecurePIM can be used without MDM.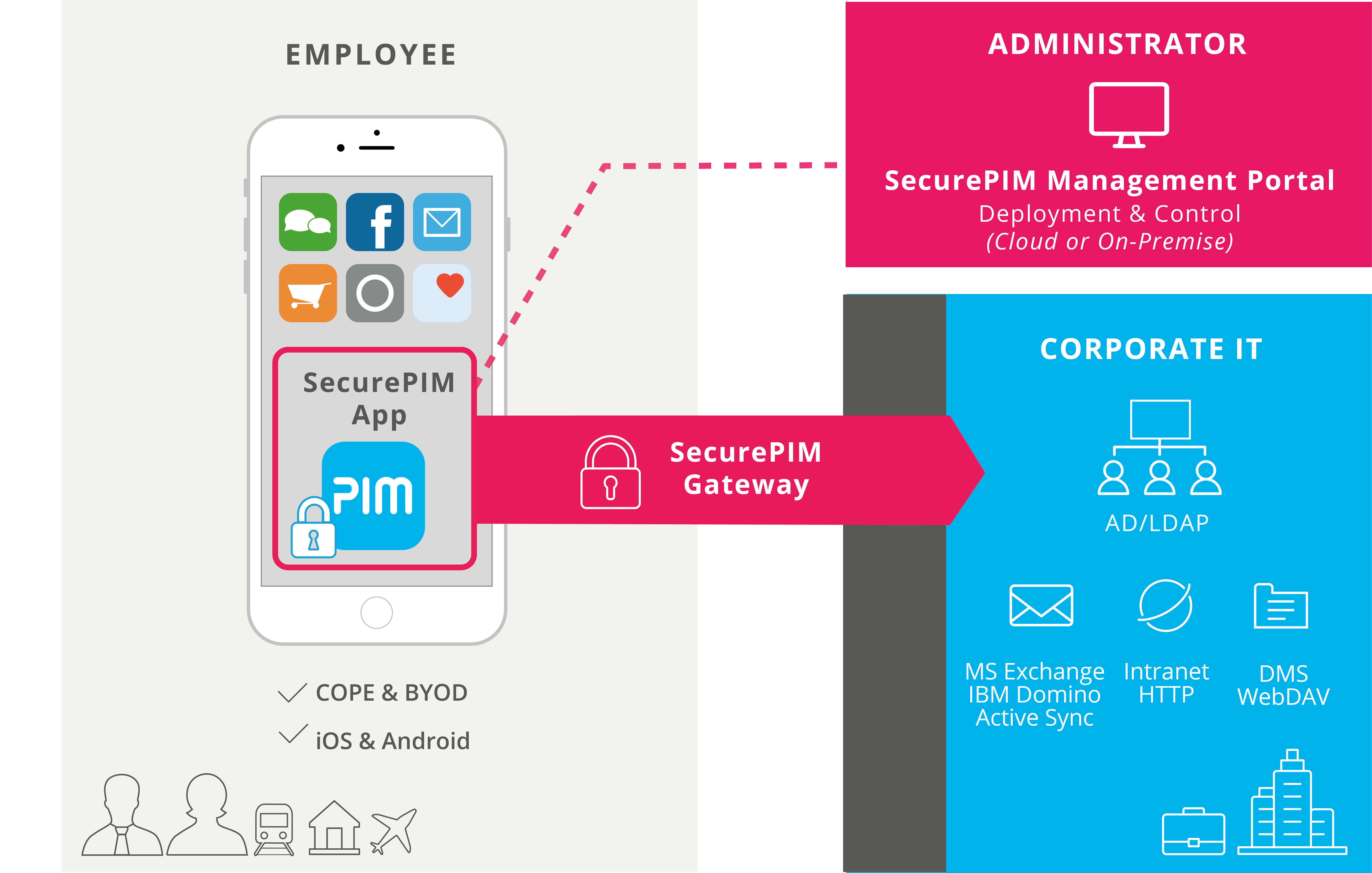 The SecurePIM solution consists of three components:
SecurePIM App
SecurePIM Management Portal
SecurePIM Gateway
SecurePIM Enterprise is available for Microsoft Exchange and HCL Domino.
The SecurePIM Messenger
Chat easily and securely with your colleagues. And chatting like WhatsApp is finally private again.
Everything you need for secure business instant messaging.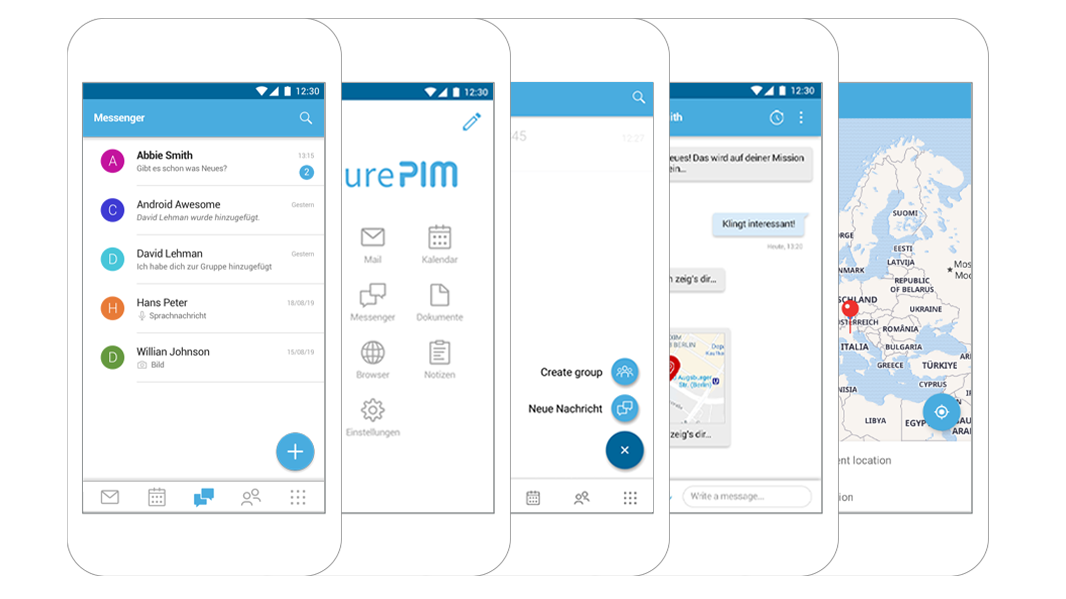 SecurePIM Government
SecurePIM Government enables public sector employees to work using mobile devices while securely protecting sensitive data. It enables employees of federal and state agencies, local municipalities and public safety departments to securely transfer or edit sensitive data using mobile communications devices. SecurePIM Government adjusts to different security levels, so government employees can work within high security standards but still stay flexible.
SecurePIM Government SDS
SecurePIM Government SDS is the only security solution approved for Apple® devices (iPhone® or iPad®) by the German Federal Office for Information Security (BSI).
SecurePIM Government
SecurePIM enables government employees to easily and securely access critical data using an iOS or Android™ smartphone or tablet and offers smartcard support.
SecurePIM Government Cloud
Offering extra flexiblity this SecurePIM version offers the SecurePIM Management Portal operated in the Cloud included in the price.
SecureVoice for SecurePIM Government SDS
As an optional feature SecurePIM Government SDS also offers end-to-end encryption for voice calls. Calls are transmitted reliably and in a high voice quality. The highest level of security is provided. All this while being easy and comfortable to use. The SecureVoice functionality integrates seamlessly with the other modules of the SecurePIM App. Please note that SecureVoice is only available for German authorities.
For more info please contact our experts!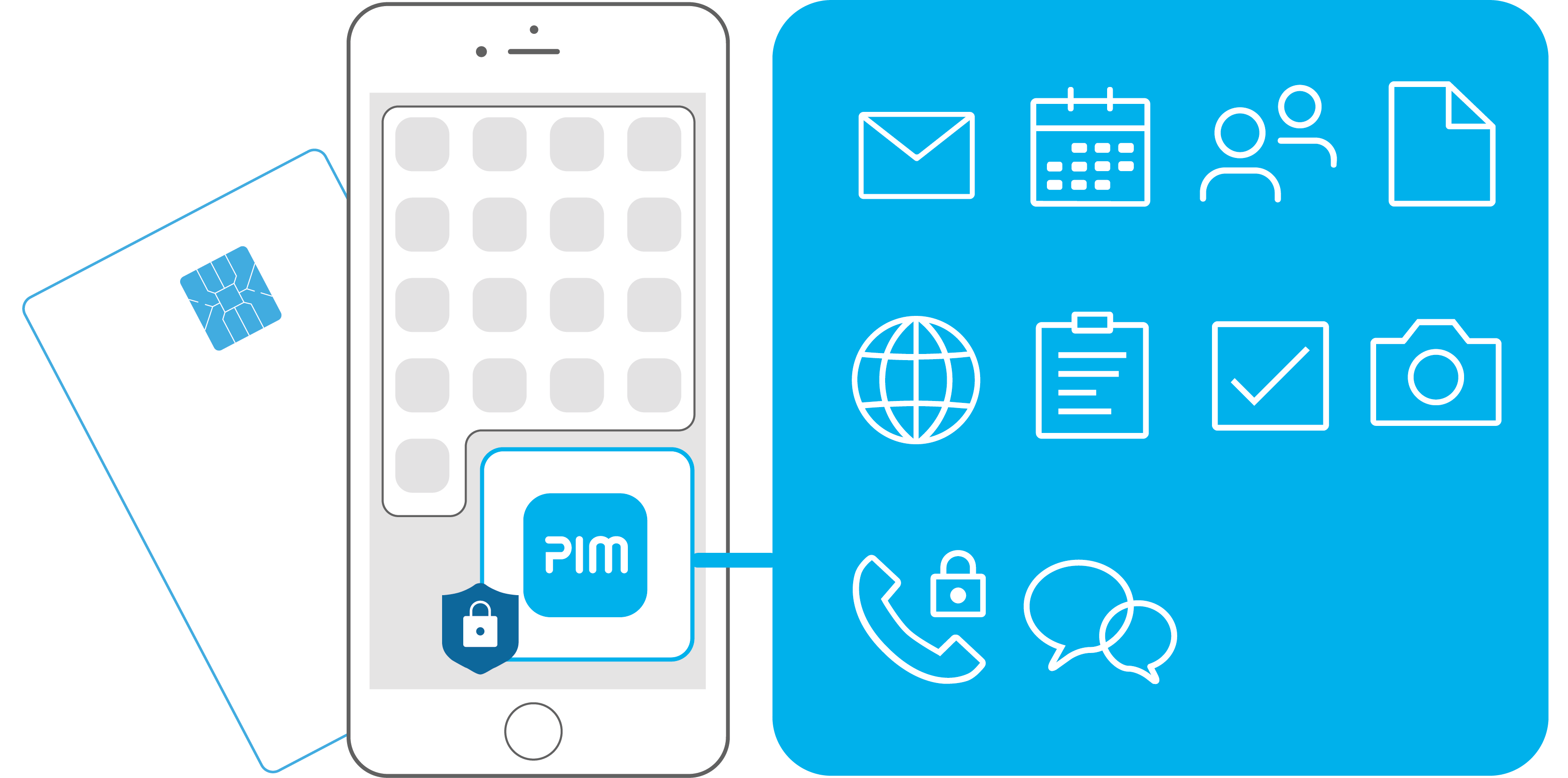 Contact our experts!
Do you have questions regarding SecurePIM Messenger? Would you like a custom online demo? Would you like an offer? We will get in touch with you as soon as possible via phone or email.