Sophos MDM and SecurePIM Container
The perfect combination for secure ultramobile working scenarios
Sophos MDM and SecurePIM Container
The perfect combination for secure ultramobile working scenarios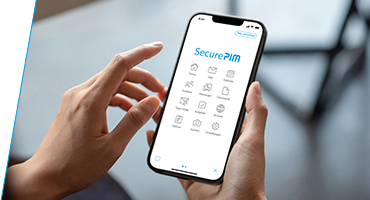 Sophos Secure Email and Sophos Secure Workspace End of Life
Sophos has announced it will be retiring the secure container apps "Sophos Secure Email" and "Sophos Secure Workspace" by the end of 2023. This means that it will no longer be possible to place emails, contacts, documents, etc. in secure containers in future. Many Sophos MDM customers are now faced with the question of how to continue safeguarding their corporate data reliably.
The solution: The highly secure Container SecurePIM – compatible with your Sophos MDM
SecurePIM is the ultimate solution for secure, ultramobile working scenarios and bundles all important office functions, such as email, calendar, contacts, document editor, browser, messenger and much more securely within a single app. With our flexible container technology, which works independently of the platform or device you are using, you can separate work data effectively from private data and safeguard it against threats. Your employees are able to access company resources seamlessly, without having to compromise on security. Thanks to its compatibility with your Sophos MDM, SecurePIM perfectly complements your mobile security strategy.
Did you know that Sophos Secure Email actually employs SecurePIM as a white label solution? Thus, it stands to reason that with SecurePIM you are also able to use all the functions thus far provided by Sophos Secure Email and additionally also benefit from the functionality offered by Sophos Secure Workspace (documents & browser) in just one app.
Our exclusive offer for Sophos customers – inquire now!
To make the transition especially appealing for you, we are offering the following exclusive conditions.
30 Days free, non-binding trial period
Try out SecurePIM at zero cost for 30 days and find out for yourself how well our container solution performs.
Use SecurePIM free of charge for 6 months*
Change over to SecurePIM now and use our container solution free of charge for 6 months.
*This special offer is valid until the end of 2023.
The benefits of SecurePIM at a glance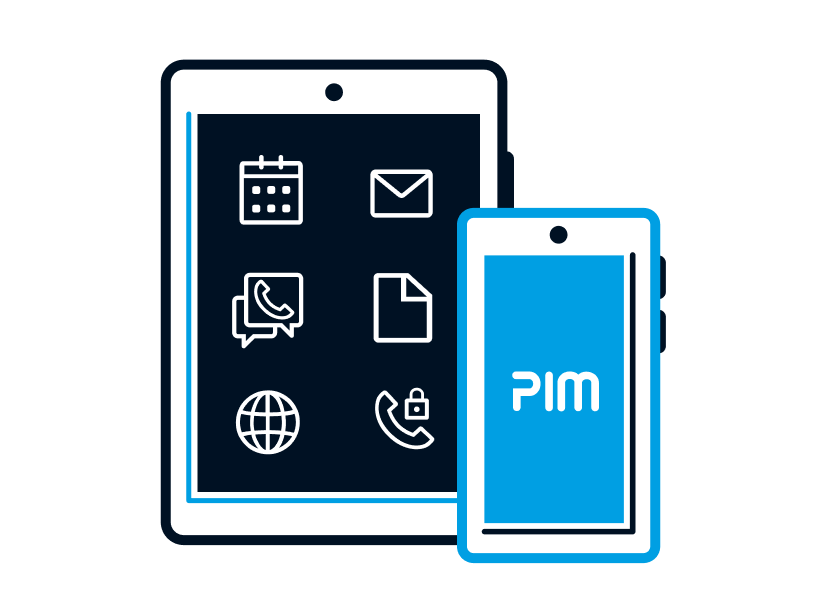 Productivity
Your employees have mobile access to emails, calendars, contacts and documents, enabling them to be more productive while working remotely
Collaboration
SecurePIM allows your teams to work together securely and exchange files within the container
Flexible administration
SecurePIM can be managed flexibly via the Sophos MDM or the SecurePIM Management Portal. This ensures that you always have an eye on your security settings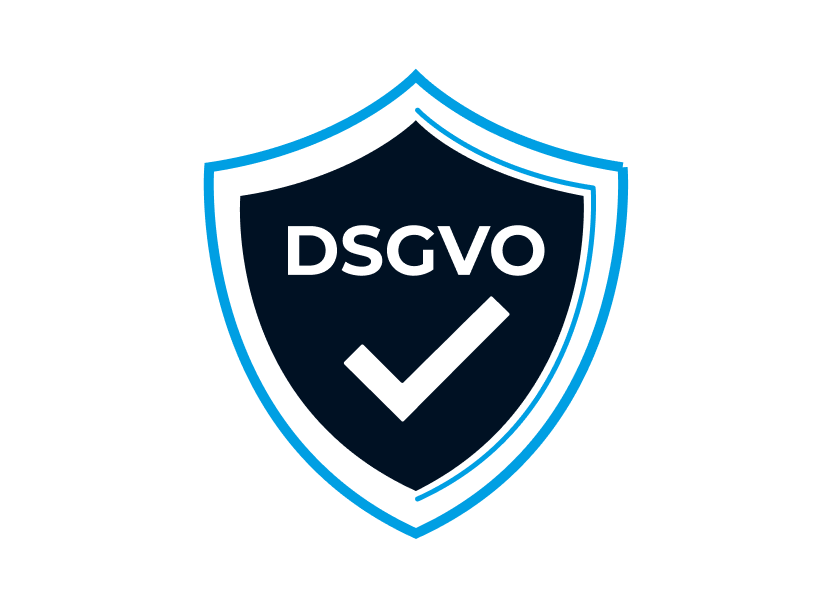 Data protection (GDPR compliant)
With SecurePIM your data is always encrypted within the container and safeguarded against unauthorized access. Moreover, SecurePIM strictly separates company and private data from each other and is GDPR compliant out
of the box
Sophos MDM compatibility
SecurePIM can be integrated seamlessly into your Sophos MDM. You can continue using your existing systems, while benefiting from SecurePIM's advanced security functions at the same time
Maximum ease of use
SecurePIM includes all the familiar office functions, which minimizes the training and administration efforts for employees and administrators alike
SecurePIM App Functionality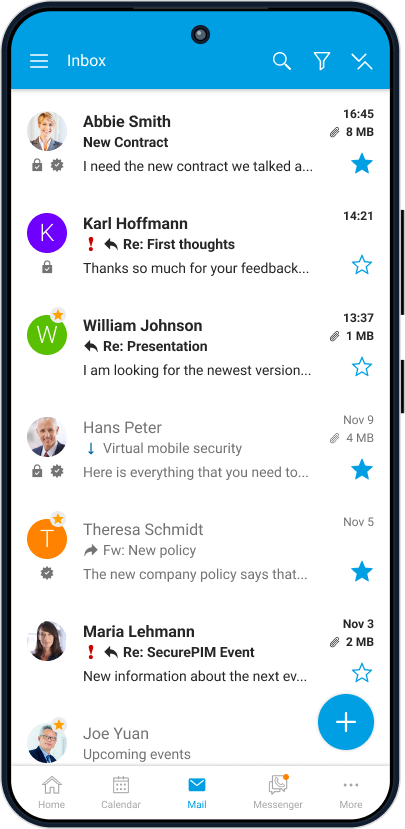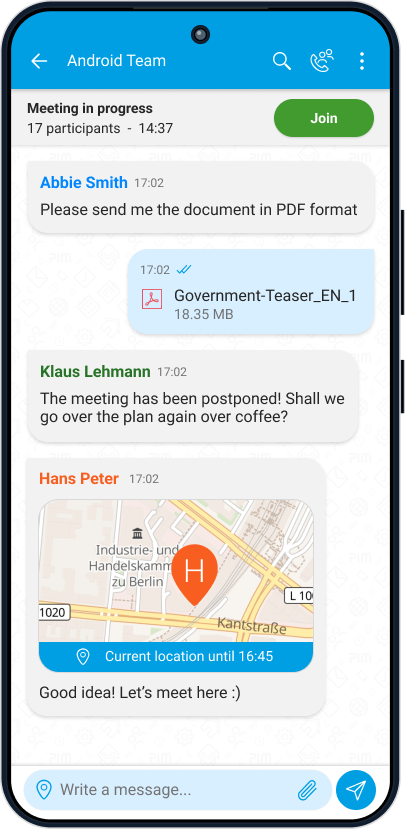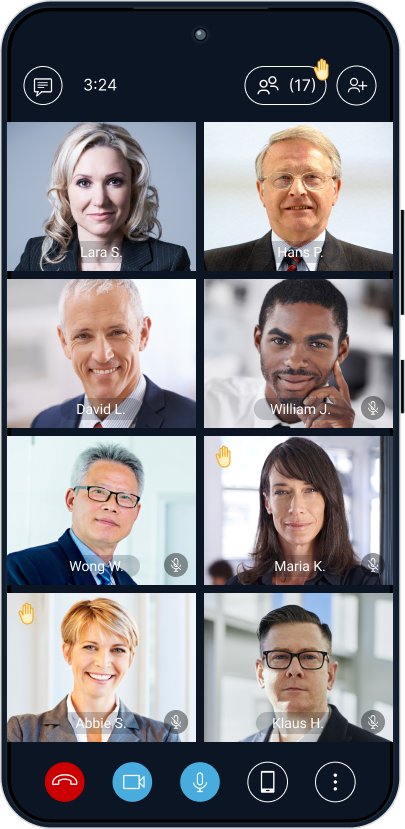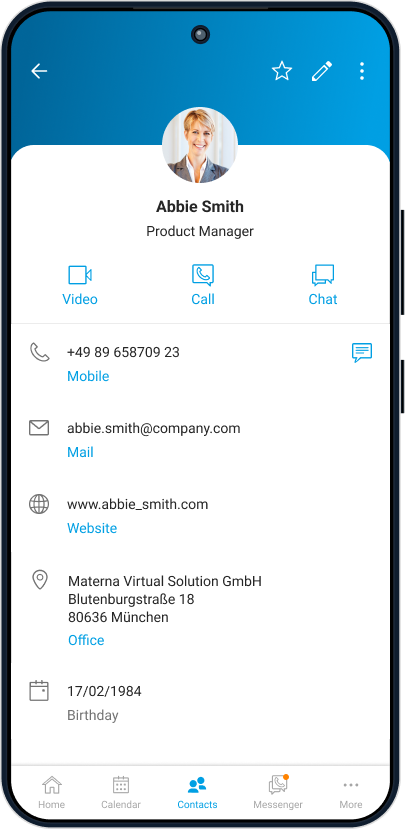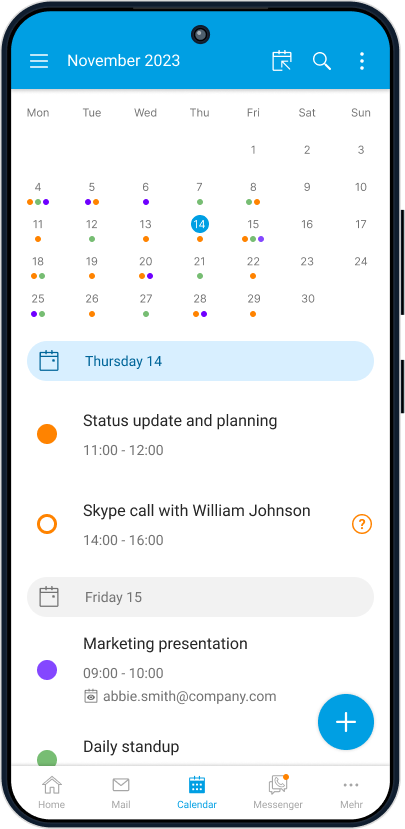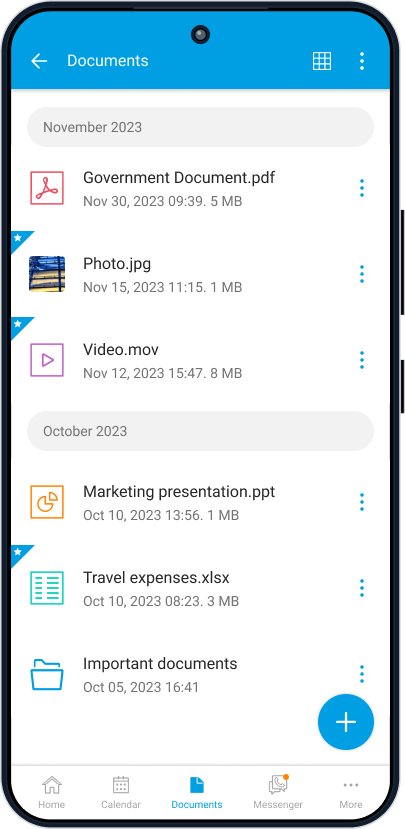 SecurePIM also includes team mails, tasks, notes, a browser and camera functions. Technical details can be found in the SecurePIM factsheet.
Contact us now
Are you interested in SecurePIM and would like to try the solution out without any obligations? Then get in touch with our experts right now!
This may also be of interest to you…
Exciting topics and articles related to secure ultramobile working scenarios.
Blog Article "The three biggest risks for mobile working scenarios"
Smartphones and tablets are popular working devices in daily business. In this blog post, you can read more about the three biggest risks now threatening mobile working scenarios. (German only)
Blog Article "Check list for secure instant messaging"
In this blog post, you can discover which aspects it is crucial for you to consider when choosing a suitable communication and collaboration solution for secure instant messaging. (German only)